Canadian among 65 new coronavirus cases on cruise ship
China reported a rise in new virus cases Monday, possibly denting optimism that disease control measures — including isolating major cities — might be working, while the operator of a cruise ship in Japan reported dozens of new cases.
WHO chief Tedros Adhanom Ghebreyesus said as of 6 a.m Geneva time, there were 40,325 confirmed cases in China with 909 deaths. Tedros said in recent days, health officials have seen "some concerning instances" of onward transmission of the virus from people with no travel history to China, including cases reported in France and the U.K.
He said the detection of that small number of cases "could be the spark that becomes a bigger fire."
"But for now, it's only a spark," he said. "Our objective remains containment."
The WHO chief said on Twitter over the weekend that an advance team of international experts was en route to China. That team will be led by Dr. Bruce Aylward, a Canadian with expertise in epidemiology and emergency management.
Cruise ship cases increase
The operator of a cruise ship quarantined in Yokohama, near Tokyo, said an additional 66 cases were found aboard. The captain of the ship, however, later revised that number down to 65. That is in addition to 70 reported earlier.
In a statement, Princess Cruises said there is a Canadian among the new cases. The remaining are in people from Australia, England, Japan, the Philippines, Ukraine and the U.S., the cruise company said.
"We are following guidance from the Japan Ministry of Health on plans for disembarkation protocols to provide medical care for these new cases," the statement said.
This latest case raises to eight the number of Canadians aboard the Diamond Princess who have contracted the virus. The patient will join the seven other Canadians who were earlier taken to Japanese hospitals for treatment and monitoring.
Chris Brown@CBCChrisBrownReplying to @CBCChrisBrown
Just saw yet another Ambulance leaving with its lights and sirens on. Difficult to count the number here today, but many, many. Media interest also exponentially up with much larger crowd. Meanwhile, on board passengers tell us things are very "worrisome." #DiamondPrincess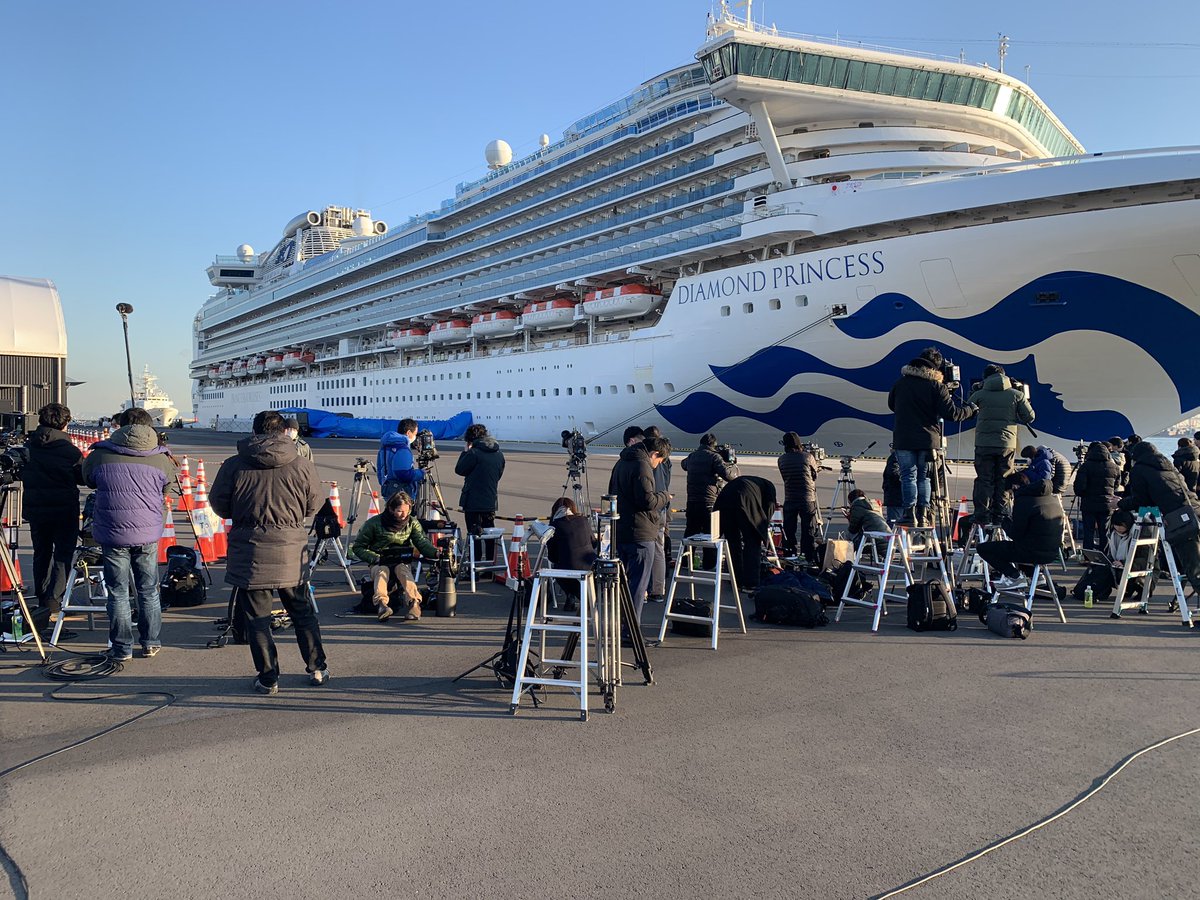 Health Minister Katsunobu Kato said the Japanese government was considering testing all 3,711 passengers and crew on the Diamond Princess, which would require them to remain aboard until results are available. Health authorities are scrambling to deliver medicine requested by more than 600 passengers.
"We are doing the utmost to keep everyone in good health," Kato said.
The fatality toll from the new virus passed the 774 people believed to have died in the 2002-03 epidemic of Severe Acute Respiratory Syndrome (SARS), another viral outbreak that originated in China. The total of 40,171 cases on the mainland of the new virus vastly exceeds the 8,098 sickened by SARS.
As of Saturday, there were seven confirmed cases of coronavirus in Canada — four in B.C. and three in Ontario.
The Public Health Agency of Canada says the public health risk from the novel virus is low in Canada.
The British government declared the virus a "serious and imminent threat to public health," which it said gives authorities powers to forcibly detain infected people if necessary. The change comes after a British man who caught the virus in Singapore in January appeared to be linked to at least seven other confirmed cases in Europe.
China has built two hospitals and sent thousands of extra doctors, nurses and other health care workers to Wuhan, the city of 11 million people in central China that is the epicentre of the outbreak. Most access to Wuhan was suspended Jan. 23. Restrictions have spread to cities with a total of 60 million people.